Welcome to your orthopaedic knee specialist in Basel and Baselland!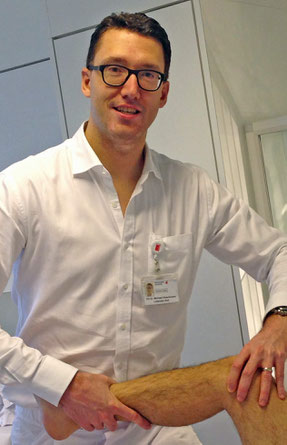 Dear patients and visitors,

in the name of our team of English speaking knee specialists we really like to welcome you on our homepage.
Here you will find detailed information on anatomy and function of the knee joint as well as on a variety of knee problems or knee injuries. We understand ourselves as successor of the internationally renowned "Bruderholz* knee school, which was founded and developed by Prof. Werner Müller.
As "knee doctors" we commit ourselves to an evidence based, specialised and professional care and treament of our patients. 
In our daily practice we treat patients with a variety of knee problems. These range from sports injuries (e.g. tear of anterior or posterior cruciate ligaments, tear of collateral ligaments, meniscal lesions, cartilage tears, fractures), overloading problems due to bow or x-shaped legs or trauma and all forms of osteoarthritis (OA).In particular the treatment of OA using non-surgical (e.g. physiotherapy, injections, insoles) and surgical methods (e.g. osteotomies, partial or total knee replacement) is one of the specialties.
Another important focus lies on the diagnostics and treatment of patients with pain or problems after partial (UKA) or total knee replacement (TKA). Here we offer a specialised knee clinic "Painful knee arthroplasty".
The following pages should provide you with detailed information about the knee joint, knee injuries and osteoarthritis. In addition, it covers several aspects of diagnostics and treatment of patients with pain after partial or total knee replacement. If you have further questions, please do not hesitate to contact us.
With kindest regards
Your
Prof. Dr. med. Michael T. Hirschmann

Chief of Orthopaedic Surgery and Traumatology, Chair Knee Unit
Dept. of Orthopaedic Surgery and Traumatology
Kantonsspital Baselland (Bruderholz, Liestal, Laufen)
Switzerland
Michael.Hirschmann@unibas.ch